Current Vacancies
We do not currently have any vacancies
Work Experience Students and EMS
Like many veterinary practices, we are not only involved in training the next generation of veterinary nurses, but also vets as well.
Veterinary students are required as part of their university training to spend time within practice- known as extra-mural studies (EMS)
As a large mixed practice, it is not unusual for us to have multiple students with us for a large percentage of the year.
Veterinary students wishing to see practice with us can now book with us via the VetEMS website, run by XLVets. Please click on the logo to request a booking (website will open in a new window).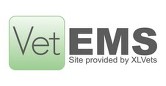 We also receive a large number of requests from school and college pre-veterinary students wishing to find a placement for their work experience. These requests should be made via email to enquiries@midshirevets.co.uk
Please note, however, that we receive many more requests for such placements than we have availability. We give preference to university undergraduate students, and all our availability is booked many months (sometimes a year or so!) in advance.
We encourage younger students considering becoming a vet to gain experience with animals via such means as work on farms, at stables, kennels or other similar placements. Such experience will be invaluable when applying for a veterinary degree course.
You can find more information on veterinary careers at the RCVS website here 
Further information on a Veterinary Nursing Career can be found https://bvna.org.uk/

Further information on a Veterinary Receptionist Career can be found https://www.bvra.co.uk/